Shop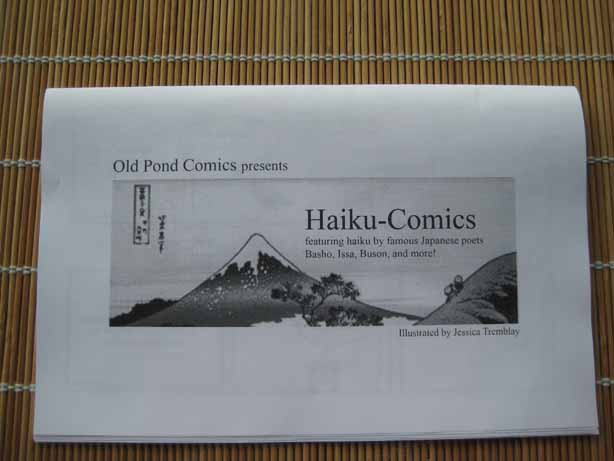 Our Online store is now open!
Follow us
To receive comics by e-mail: subscribe to my blog
Subscribe to the Newsletter to receive a free list of haiku contests, new comics and more, four times a year.
Upcoming Appearances
Oct. 2015: Haiku North America (Schenectady, N.Y.)
Testimonials

So funny I'm now crying over my laptop.


-Rahmatou Sangotte

Learn Haiku through Cartoons
Old Pond Comics is a comic strip featuring two frogs: Master Kawazu (the frog who inspired Basho's most famous haiku poem) and his young apprentice Kaeru.
Since 2007, Old Pond Comics delights poets of all levels by
* illustrating famous haiku poems

* poking fun at haiku rules, and

* following the adventures of a young haiku apprentice.
What better way to learn and teach haiku than through cartoons? Start reading »
My Haiku Life video
Kaeru wants to learn haiku and finds the perfect teacher, Master Kawazu, sitting in the pond. Video produced for the HaikuLife project by The Haiku Foundation in 2015.
---
---
Publications
You'll find Old Pond Comics in the journal of three National Haiku Associations: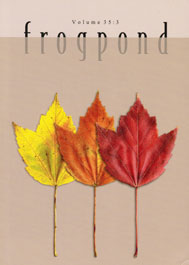 * Haiku Canada Review (Haiku Canada)
* Frogpond (Haiku Society of America)
* Gong (Association Francophone de Haiku)
Old Pond Comics also appear monthly in:
* The Bulletin (Geppo): a journal of Japanese Canadian community, history & culture.