Don't miss these events
Haiku Canada (May 2014)
Seabeck Haiku Getaway (Oct 2014)
See Calendar of haiku contests»
Go to the pond

Subscribe to the blog.
Sign up for our free newsletter! to receive words of wisdom from Master Kawazu.
---

Learn haiku with Old Pond comics
Kaeru becomes the apprentice of Master Kawazu -- the frog who inspired Basho's famous haiku "Old pond, a frog jumps in -- the sound of the water!"
Old Pond Comics is a great way to teach and learn haiku and will appeal to haiku poets of all levels. Start reading »
How to write a haiku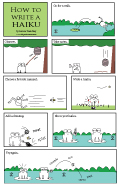 Seven Stages of Writing a Haiku